6 TOEFL Course Books to Help You Ace the Exam
When it comes to the TOEFL (Test of English as a Foreign Language), practice makes perfect. But with so many English-language study materials available, it can be hard to know where to begin. If you're planning on taking the TOEFL sometime soon, try starting with these course books, which offer excellent practice that will prepare you well for exam day. Though you can't predict exactly what will be on the test, if you study with these three course books, you'll be well on your way to earning that 120.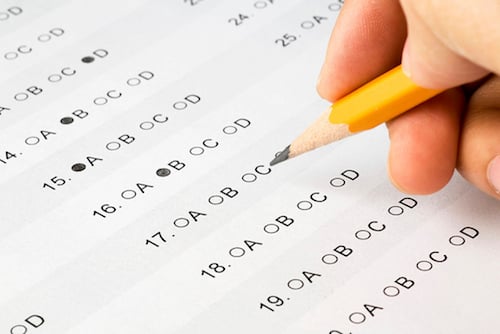 Image via Alberto G / flickr
1. English Phrasal Verbs in Use
If there's one thing to know about the writers of the TOEFL, it's that they lovephrasal verbs. Unfortunately, learners of English do not typically share this passion. English Phrasal Verbs in Use comes with a list of over 1,000 of the most common phrasal verbs, as well as clear definitions and examples, making it a perfect study aid for the TOEFL. Full review of English Phrasal Verbs in Use
2. Cambridge International Dictionary of Idioms
While idioms are admittedly more fun to learn than phrasal verbs, they can be a headache for those taking the TOEFL, as it's hard to know which ones will appear on the exam. Fortunately, the Cambridge International Dictionary of Idioms separates their idioms by country, so you can focus on the idioms that are most commonly used in the United States. It's a certainty that at least a few of them will appear on the TOEFL. Full review of Cambridge International Dictionary of Idioms
3. Painless Vocabulary
Painless Vocabulary does away with boring lists of words, and instead presents new vocabulary in interesting stories, articles, and opinion pieces. Incidentally, many exercises on the TOEFL involve short articles that are very similar to the ones that you'll find within the pages of  Painless Vocabulary. Thus, not only will you learn new words, but you'll familiarize yourself with the types of questions that appear on the exam. Full review of Painless Vocabulary
Want to know more about the TOEFL? Check out our overview of the TOEFL on YouTube, co-produced with English teaching expert, Robby Kukurs!
4. Speak English Like an American
The TOEFL is an American exam, and especially in the Listening section, you'll be exposed to a wide variety of American accents. Books such as Speak English Like an American are especially useful, as they contain audio CDs with plenty of examples of how Americans really speak. You'll also learn how to improve your own American accent, which will be of great use to you if you're planning on working or studying in the United States. Full review of Speak English Like an American
How are your English comprehension skills? Take a free English listening test to find out!
5. Focus on English: Advanced English Grammar
Though the TOEFL does not explicitly test grammar, you ought to perfect your grammar skills, as making mistakes can seriously hurt your scores on the speaking and writing sections. Among the many English grammar books out there, Focus on English stands out in that it includes exam-style questions and exercises after each unit. Therefore, you can practice what you've learned to make sure your grammar skills are top-notch. Full review of Focus on English: Advanced English Grammar
6. The Official Guide to the TOEFL Test
We'd be remiss to create a list of TOEFL study materials without including the Official Guide to the TOEFL Test, which is the only book on this list actually produced by ETS, the people who make the test. The most useful feature of the book is that it includes four practice tests, which mirror the actual exam almost exactly. When taking the practice tests, time yourself to ensure that you're completing the test fast enough and won't run out of time on exam day. Full review of The Official Guide to the TOEFL Test
The books on this list will help you get a good score on the TOEFL, which will open countless doors for you both professionally and academically. If you'd like even more practice, see our full list of English course book reviews. And don't forget to check out some of our other free online resources that can help you, such as free English-language level tests. Of course, the best way to prepare for the TOEFL (or any English-language tests) is to take one-on-one lessons from tutors who are trained in teaching exams — check out our English course offerings if you're serious about passing the TOEFL with flying colors.