8 Untranslatable Spanish Phrases to Know and Use
Spanish is a truly wonderful language. Not only is it beautiful to both speak and listen to, but it is a practical language with a global impact. There are nearly 500 million Spanish speakers around the world and although in the U.S. Spanish has long been considered an important language to know, it seems that even Europe is catching the Spanish speaking bug, further pushing this fascinating tongue into a prominent global position. Of course, Spanish also has aspects which can make learning it a challenge to anyone trying to study the language. Untranslatable terms fall under this criteria and are some of the most difficult to learn but also extremely vital if you hope to conquer the Spanish tongue. So take a pause in your language journey to peruse these 8 untranslatable Spanish phrases and make sure to add them to your vocab bank ASAP:
1. Estrenar
The word 'estrenar' should be featured in a sentence when you are talking about an item you are using for the first time.
E.g.: Estoy estrenando mi vestido. (I am wearing my new dress for the first time.)
2. Friolento
'Friolento' (or friolero in some countries) is used when describing someone who is particularly sensitive to the cold – whether it be cold weather or the freezing water in a swimming pool.
E.g.: Ella no aguanta el frio, es muy friolenta. (She can't handle the cold, she's very sensitive to it.)
3. Tener ganas
Although you may find this phrase translated as 'to want', this doesn't really cut it. 'Tener ganas' is essentially to truly desire something, or to want it really badly.
E.g.: Ella tiene ganas de viajar a Europa. (She really desires to travel to Europe.)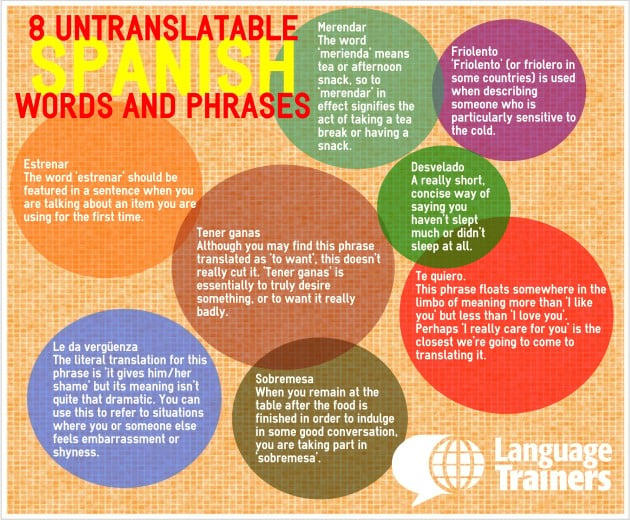 4. Merendar
The word 'merienda' means tea or afternoon snack, so to 'merendar' in effect signifies the act of taking a tea break or having a snack.
E.g. ¿Quieres venir a merendar a mi casa? (Would you like to come to my house to have tea/an afternoon snack?)
5. Desvelado
This word is a really short, concise way of saying you haven't slept much or didn't sleep at all.
E.g.: No dormí anoche, estoy muy desvelado. (I didn't sleep all night, I am very sleep deprived.)
6. Te quiero.
This phrase has a tendency to confuse language learners because it floats somewhere in the limbo of meaning more than 'I like you' but less than 'I love you'. Perhaps 'I really care for you' is the closest we're going to come to translating it.
E.g. Te quiero. ( I more than like you but don't quite love you, I really care for you.)
7. Sobremesa
Food is a huge social experience in many Spanish speaking cultures, so it's no surprise that 'sobremesa' involves just that. When you remain at the table after the food is finished in order to indulge in some good conversation, you are taking part in 'sobremesa'.
E.g. La sobremesa se alargó dos horas. (The talking after eating went on for another two hours.)
8. Le da vergüenza
The literal translation for this phrase is 'it gives him/her shame' but its meaning isn't quite that dramatic. You can use this to refer to situations where you or someone else feels embarrassment or shyness.
E.g. No quiere bailar enfrente de todo el mundo, le da vergüenza. (She doesn't want to dance in front of everyone, it makes her embarrassed.)
Although learning all these phrases and how to apply them may seem daunting at first, before you know it you'll be impressing all your friends with your 'inside' knowledge of the Spanish tongue. However, remember that a strong foundation is vital in order for you to be able to put terms like these to good use. Don't forgo signing up for some top-tier language classes and be sure to keep an eye on your progress with free online placement tests.