Impress your Dutch friends with These Can't-Miss Songs, Movies, and Books
Despite the Netherlands' thriving musical, cinematic, and literary scene, Dutch-language popular culture remains relatively unknown to the English-speaking world. For that reason, those learning Dutch may struggle to find entertaining, helpful materials for language practice outside of class. But don't worry: we've compiled a list of the best Dutch-language songs, movies, and books, that are specifically chosen to help improve your Dutch. And it's not just your language skills that will benefit — your Dutch-speaking friends and connections are sure to be wildly impressed by your knowledge of the musicians, actors, and authors of their culture.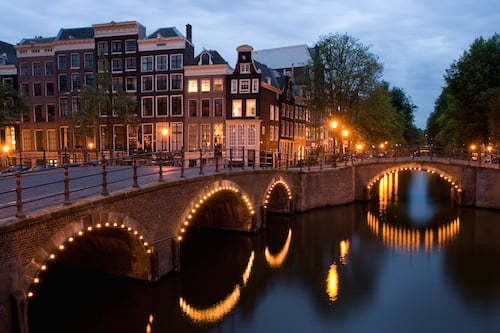 Image via Massimo Catarinella / Wikipedia
1. Listen to Dutch bands
Though you've probably never heard of Maaike Ouboter, it's a household name in the Dutch-speaking world. Her most popular song, Dat Ik Je Mis (Because I Miss You), is a heart-wrenching autobiographical number about the loss of her parents. The song was a #1 hit single when it was released, and its video has over 4 million view on YouTube.
For a more uplifting tune, have a listen to Andre Haze's Wij houden van Oranje ("We Love Orange"), a song celebrating the Dutch soccer team. Andre Haze is a legendary Dutch folk singer; if you mention him to your Dutch friends, they'll surely know his name. Soccer is an important pastime in the Netherlands, so if you find yourself watching a soccer game with your Dutch friends or colleagues, remember the lyrics to this song and be prepared to sing along.
2. Watch Dutch comedies
The Netherlands is a country of many different cultures, and a great way to get a fresh multicultural perspective — and practice your Dutch comprehension skills at the same time — is to watch Hush Hush Baby!, a comedy about a Moroccan living in the Netherlands. Though the movie is primarily a comedy, it also raises important topics about social justice in the Netherlands, and is great to use as a conversation starter with your Dutch-speaking friends.
Another popular Dutch comedy, New Kids Turbo, is about five unemployed friends who live in the North Brabant province of the Netherlands. In addition to being a great comedy, it's especially useful for learners of Dutch, as it has changed the way that people speak in the Netherlands. Indeed, the humorous swear words used by the protagonists — such as koekwous (an offensive term for a crazy person) — can now be heard in streets and schoolyards all throughout the country.
How good are your Dutch language skills? Find out by taking a free language level test!
3. Read Dutch-language books
Taal is zeg maar echt mijn ding ("Language is Like Really My Thing") is a perfect book for Dutch learners, for several reasons. First, it consists of digestible, easy-to-read short stories that are entertaining and use mostly simple language. Second, the stories themselves are about language — you'll learn a ton about various Dutch words, such as the perceived fakeness of echt ("really") and the connotations of the word ding ("thing"). Finally, the book is exceptionally quotable, containing endless clever instances of wordplay. Try busting out this one to your Dutch-speaking friends: "Universiteit is niet het tegenovergestelde van diversiteit. Waarom is dat?" ("University is not the opposite of diversity. Why is that?").
There's plenty of Dutch-language media out there, but it can be hard to find in the English-speaking world. This list is a great introduction to the excellent songs, movies, and books that the Netherlands has produced. However, there's still much more to explore — check out the rest of our Dutch song, movie, and book reviews. Still, the best way to gain insider knowledge of the Dutch language and culture is to take individually-tailored classes from a qualified, native speaking professional — consult our Dutch-language course and package options here.