The Business Lunch: Germany's Most Popular Dishes and Mealtime Etiquette
When one thinks of fine international cuisine, Germany most likely does not immediately spring to mind.  True, their cultural dishes lean more towards the hearty and sensible—think bratwurst and braised cabbage—rather than the flamboyant and aesthetic.  However, if you find yourself in Germany on a business trip, having lunch with clients or coworkers, it's important to know what you're ordering and how to act appropriately. 
Fortunately for the unadventurous palate, a good deal of German culture has spread to the rest of the Western world generations ago, making the food somewhat familiar.  For example, most people have heard of bratwurst, which is a high quality German sausage often eaten with cabbage or sauerkraut.  Try it with curry sauce for a zesty flavor.  Schnitzel, another popular dish, is any type of thin meat—generally chicken, pork, or veal—breaded and pan-fried, and then served with spatzle, thick German noodles.
If it's a particularly chilly day, try ordering an eintopf, a traditional bowl of vegetable and meat stew with a beef or pork base.  Different versions of this are available, including a vegetarian option and the not-so-vegetarian option of grünkohleintopf, which is a delicious medley of kale, smoked meat, and sausages.  Any proper German meal is sure to be very meat-heavy, and if you're feeling daring, try the national dish, sauerbraten, which combines two of Germany's favorite methods of food preparation in a pickled roast.
As a side dish, try the kartoffelpuffer, which are potato cakes fried with onions and other seasonings.  These are often sold at the winter markets as sweet treats as well, delicious as a dessert with coffee.  Other excellent German desserts that most will recognize is the apfelstrudel, a light, flaky apple pastry, and the schwartzwalder kirschtorte, or black forest cherry cake covered with whipped cream and chocolate shavings.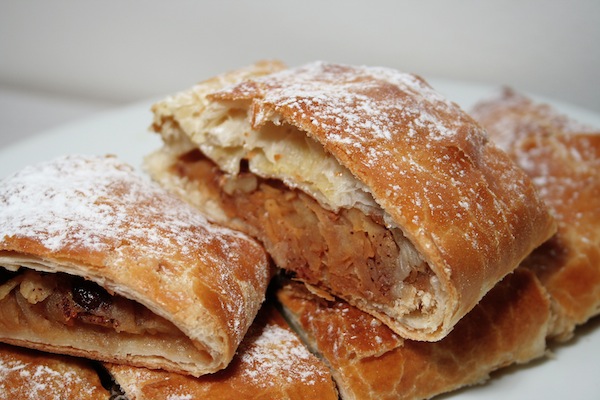 When it comes to proper behavior for a German business lunch, start off with being punctual to give a good impression.  Shake hands firmly with everyone in your party, and do not start eating until your host gives you the go ahead by saying, "Guten appetit!"  In most cases, a lunch scenario is meant to strengthen personal ties and test the waters, so keep the conversation light and friendly and don't bring up business until your associate does.  While Germany is famous for its strong and artistic brews, you're best sticking with coffee if it's a business lunch, unless your colleagues themselves are sampling the local beer.  There will be plenty of other meals to wash down with a good pilsner.  Toast your coworkers by saying, "Prost!" and maintaining strong eye contact as you clink steins.
While your German coworkers will mostly likely conduct business in English out of politeness, you will win their respect much quicker if you are able to engage them in their native language.  Get started learning German by sending us an inquiry, or by taking our free online German language level test to see where you place.