Top 5 Languages You Should Be Learning
There are many ways to determine the usefulness of a language. It is estimated that bilinguals and multilinguals are paid between 5% to 20% more than their monolingual peers, but that's not the only benefit to honing in on a specific language. Knowing certain languages can also increase your value on the job market, help set you apart from the crowd and make you more likely to snag a new job or an exciting promotion. On a more personal level, speaking another language can enrich your overall experiences as a traveller and global citizen too!
All these pros are great, but you still might be struggling to know where to begin or exactly which language will benefit you the most. When it comes to languages, there are a few heavy hitters which carry a lot of weight all around the world. If you are thinking about a language to learn in 2020, but are not sure where to start, here are 5 of the most important languages to know (excluding English):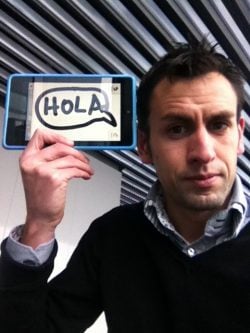 Spanish
With over 400 million native speakers, Spanish is a clear contender for the title of most important language to learn. It is the most widespread first language in the world, and in countries like the US, Spanish is almost as common as English. Knowing the language can get you far abroad, too. Most countries in Central and South America are Spanish speaking, and nations like Mexico are top trading partners with the US, making Spanish a good language to know for business!
Mandarin Chinese
With China's GDP set to overtake the US by 2029, learning Mandarin is probably one of the smartest professional skills you can acquire these days. China is the US' biggest trading partner and a hub for many American corporations. Mandarin also boasts more than 900 million speakers, making it the most spoken native language in the world, albeit with the vast majority located in China. A language that allows you to communicate with almost 1 billion people and opens doors to new business opportunities abroad? You can't go wrong with that!
Hindi
With one of the youngest workforces in the world and the seventh-largest GDP, India is a country that should not be underestimated! As an emerging market, this youthful nation is on track to develop a strong economy to rival nations like the US and Japan. Learning Hindi can, therefore, put you ahead of the curve and prepare you for India's emergence as a nation of the future.
German
As the UK finds itself adjusting to post-Brexit life, many non-EU countries and organizations are turning to mainland Europe to maintain and build their relationship with the EU. Germany has the strongest economy in the Union and German is considered the lingua franca of the continent, alongside English. In fact, many UK companies are considering moving to Frankfurt, and as a leader in innovation, education, and business, Germany has become a global hotspot for progress; so, knowing the language is a must for anyone interested in seeking professional opportunities associated with the nation.
Arabic
If you are looking for a language that will set you apart from the crowd, Arabic might just be it. It is considered a critical language for national security, and with the right skills, you can have your pick from a variety of government jobs. Some of the wealthiest countries in the world are also Arabic speaking, so you will have access to interesting job and business opportunities in the Middle East, as well.
Has this list inspired you to learn a new language? Our excellent native-speaking tutors are on hand to tailor lessons to suit your personal preferences and learning goals—whether you are looking to learn Spanish, Mandarin, Hindi, German, Arabic or something else. Drop us a quick enquiry to find out more about the courses we have to offer.