Turkey's Tea and Coffee Traditions: Cultural Facts & Drinking Tips
In most Western cultures, early-morning risers enjoy a cup of coffee or tea before starting the day. Although tasty, the hot beverage's primary use is to give that necessary jolt we need to get on our way. Travel to Turkey however, and you'll see both are more than just a dose of caffeine: on the contrary, the drinks carry a heavy amount of cultural weight. Indulge in this delicious cultural curiosity –whether traveling or working in Turkey (or simply interested in Turkey and its traditions), start here to learn how to take your tea…and coffee!
Tea Time in Turkey
Locally referred to as Çay (or Chai), Turkish tea is steeped in tradition. Drunken black (never, ever add milk!) in tulip-shaped glasses, with the occasional sugar cube, your tea should appear clear with a reddish or mahogany tint. Turkey is within the world's top 5 tea growers and produces close to 10% of the globe's tea. However, most of that tea is consumed domestically: with locals drinking up to 30 cups a day, it's no surprise why! Citizens will begin their consumption with a cup (or 2, or 3) at breakfast, and will continue the trend throughout their workday, having tea either readily available or delivered to their business (you'll see armies of tea servers throughout the streets of Istanbul) .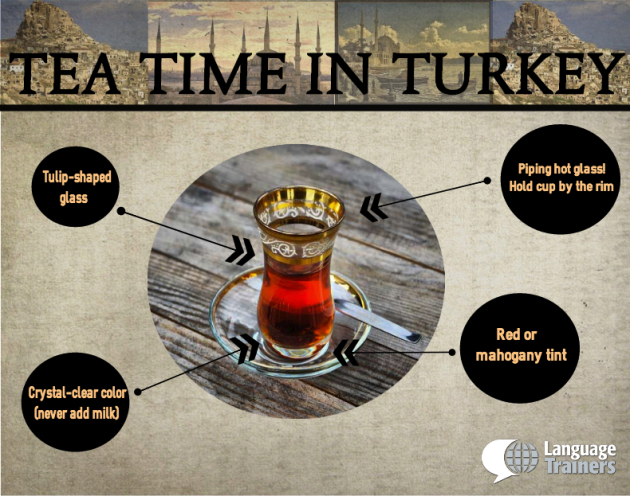 The Turkish tea trend didn't begin until World War I, when coffee became a luxury for most. However now, the hot beverage has come to mean so much more: in every home, shop, and business, you'll find your host at the ready to pour you a glass. Tea is always available for guests, and sharing a pot is a symbol of friendship. Never turn down a cup of tea: it's unheard of in Turkish culture, and will be viewed in bad taste. Even if you've already indulged in ten cups, find it in you to politely sip your new friend's proffered tea glass.
If you're too far away from Turkey to enjoy a steaming glass of tea, head to the capital's famously delicious Mado restaurant, where authentic cups of different kinds are served along with other traditional mouth-watering plates (like the Icli Kofte or Adana Kebab, for those who like extra spice).
Turkish Coffee
Brace yourself before your first cup of Turkish coffee. The thick, robust, dark drink may be stronger than any you've ever sipped before. But, if you're traveling in Turkey, be sure to accustom yourself with the taste: coffee is an important aspect of Turkish culture (in fact, UNESCO has declared Turkish coffee to be an Intangible Cultural Heritage of Turks, thus confirming its top-tier status in the country) and you'll be expected to sip quite a few cups.
While drinking tea is an all-day affair, enjoying a cup of coffee is not. Instead, expect to savor a cup after a heavy meal or as an evening treat (perfect for while watching the sun set over the Bosporus). Delicate skill work goes into preparing the perfect cup: using a mortar, beans are crushed into the finest possible powder, then cooked in almost-boiling water (and, if desired, sugar) just enough to release the flavor in the coffee grounds. Once cooked to perfection, the artisan pours the coffee into the host's cup, lifting the pot higher and higher as the liquid plunges downward. Such a technique is used to create a thick layer of foam on the coffee's surface. Once you've reached the bottom of your cup of coffee, you'll notice a sludgy mixture of coffee grounds at the bottom: do not drink these! Instead, flip your cup upside down on your saucer, and have a local try and read your fortune from their formation.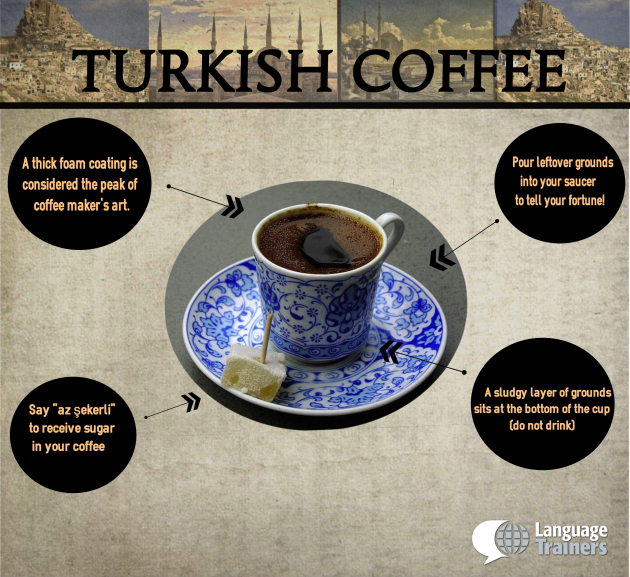 Whether you're interested in traveling, working abroad, or simply learning more about this luscious country's culture and language, contact Language Trainers. Before getting your hands on a cup of coffee or tea in Turkey, you'll experience the language –so be prepared before you go. Language Trainers offers Turkish lessons, created around your schedule and tailor-made to fit your learning needs. Learn the language with a native tutor while acclimating to customary differences and gaining insight of Turkish traditions –all tasty tidbits to serve as a sneak peek into this delicious culture.