The Business Lunch: Turkey's Most Popular Dishes and Mealtime Etiquette
Turkey is a country that tends to stay under the international radar, but in recent years there has been a push to reinforce diplomatic and business ties with the West.  Istanbul in particular has been an important link in relations between the marketplaces of the East and West.  Should you find yourself in Turkey on a business trip, you will immediately find that Turkish people pride themselves in their hospitality and will go out of their way to accommodate you.  You will most likely be invited to a business lunch during your stay, and this will prove a good opportunity to familiarize yourself with Turkish customs and build a relationship with your colleagues.
When it comes to dining in Turkey, it's an opportunity to relax and enjoy local food and the local spirit raký (although to be safe, you're better off waiting to see if your host drinks alcohol before you order a glass for yourself).  Don't be offended if your Turkish coworkers actively smoke throughout the meal, or if they stand uncomfortably close to you during a conversation—these are normal things.  When the time comes to settle up the bill, it is customary for the host to pay for the meal.  If you offer to pay your share that will be seen at polite, but don't insist.  It's better form to invite the host out to lunch on another day.
If you are a newcomer to Turkish cuisine, you will find a lot to be excited about.  For an appetizer, try the vegetarian yaprak sarma, vine leaves wrapped around a mixture of rice, onion, and spices such as mint, cinnamon, and paprika.  If the thought of eating leaves is too much for you, try something a little closer to home with the taze fasulye, green beans cooked with tomato and onion.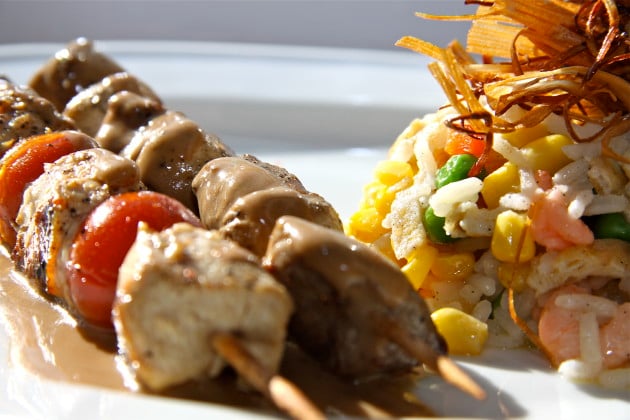 As you move on to main courses, it's necessary to try the karniyarik, fried eggplant stuffed with mince, onion, garlic, and tomato, and lahmacun, the Turkish answer to pizza, which is a round circle of dough cooked with mince, tomato sauce, onion, lettuce, and various other toppings—garnished with parsley and a hint of lemon juice.
You're possibly more familiar with Turkish kebabs, which are skewers of lamb or beef grilled over a fire.  Another popular meat dish is köfte, meatballs made from ground lamb, onions, and spices, often served with grilled peppers and rice.  If you get the chance, try manti, which are Turkish dumplings stuffed with lamb and onions and served with a tangy yogurt sauce.
Following the meal, you will most likely be served tea, coffee, and a dessert course.  Luckily for travelers with a sweet tooth, Turkey is full of many creative pastries.  You've surely heard of baklava, but try the kunefe, a cheese pastry covered in orange blossom syrup and garnished with pistachio nuts, or acibadem kurabiyesi, an almond-flavored cookie that is best enjoyed with coffee.  Prepare yourself for a brand-new culinary experience with Turkish language classes—send us an inquiry to begin, or look into various Turkish courses we provide in your area. Are you a seasoned speaker or current student? Sharpen your Turkish language skills by taking our free, online Turkish level test!