5 Things to Know Before Moving to Manila
The Philippines is a truly fascinating country with a clash of multiple cultures: from Malay and Chinese, to Spanish and American influence, the nation offers an array of global flavor. As Asia's third happiest nation, it's no wonder expats travel in droves to the Philippines. 37% of the population lives in the capital, Manila. If you're considering a move to The Pearl of the Orient Sea, and find yourself in Manila, you'll want to be prepared in this bustling city. Here are our top 5 pieces of advice to know before making the move:
1. Learn to take the metro…or suffer in traffic.
25.5 million people live in Manila: you can imagine what kind of traffic jams that may cause. The city's notorious car congestion ranks as one of the five densest infrastructure systems in Asia. That being said, cabs and other forms of ground transportation are cheap –but aren't always worth it. With speeds of 6-8 km per hour, you'll be sitting in traffic for hours before reaching your destination. Consider buying a pass for the Manila Metro Rail Transit System (MRT) instead of wasting your time in stopped traffic.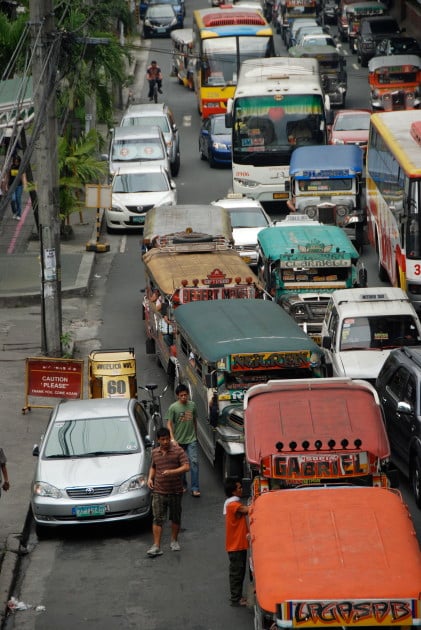 2. Restaurant service is lacking.
Service isn't a strongpoint in Manila. If you're out on a business lunch and everyone orders simultaneously, don't be surprised if the plates arrive to your table at different times and random intervals. If you attempt to be polite and not dive into your dish until the others receive theirs, you'll end up eating off a cold plate. In addition, appetizers, drinks, entrées, and dessert and infamously known for lacking order and you may be eating your butsi (deep-fried rice dough ball with sweet bean paste filling) as an appetizer.
3. Don't expect Western food.
You won't find peanut butter, quality beef, asparagus or lettuce in this city. What you can expect is rice, pork, and more rice and more pork. Aside from being plentiful (sold in just about every Philipino market), pork is cheap here as well. The locals have many delicious, rich ways of cooking cuts of meat so you'll enjoy it, despite it's repetivity. If you're vegetarian, you won't find many menu options in Manila's restaurants. But go to the markets on weekends to stock up for the week, and you'll feed yourself just fine.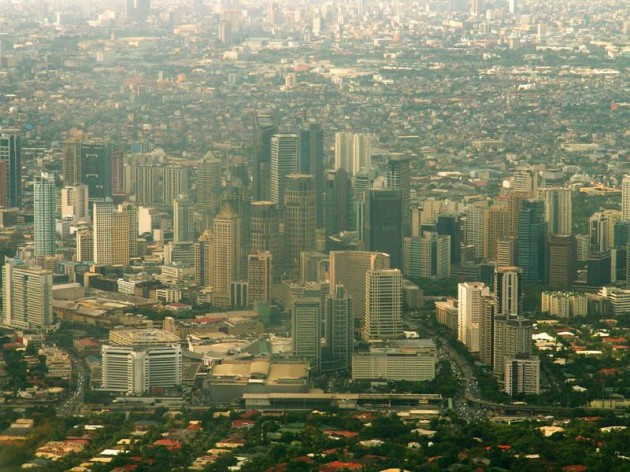 4. "Manny Pacquiao stops crime."
When the locals say the Philippine's golden child, Manny Pacquiao, stops crime, they actually mean it. The champion boxer brings the entire to a grinding halt with each match –criminals included. Take note of the days Pacquiao has matches as you won't get anything done: everyone will be watching Manny duke it out on the ring so markets, banks, and public services will either be closed or running  very slowly. The bright side is that, of course, criminal activity drops to all-time lows during matches.
5. Religion and festivals are an important Philippine tradition.
Manila hosts a vibrant and colorful religious culture. If you are living in the city for an extended period of time, you will have many opportunities to watch and partake in the events. Holy Week comes once a year in April or May, and the entire country celebrates. Be warned however that some celebrations push the limits past family-friendly festivities: one celebration called penitensiya involves fervent penitents whipping themselves bloody to reenact the suffering of Jesus. In addition, participants have the option to crucify themselves although, thankfully, this rarely occurs. Although a tourist draw, Holy Week shouldn't be taken lightly as it's a custom and culture-heavy tradition for the Catholic locals.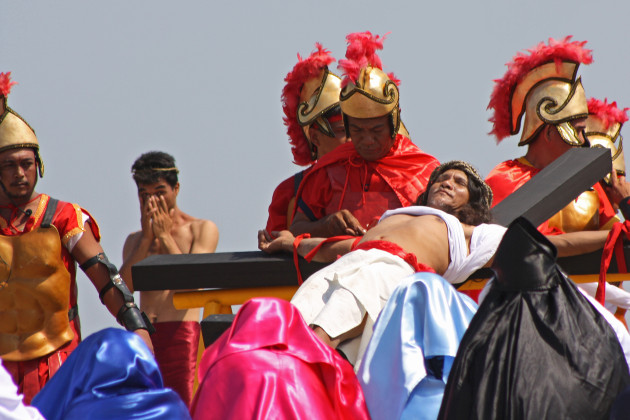 Manila is truly a metropolis apart from any other city in the world. Take Tagalog classes before you go to fully enjoy and experience all that the Philippines has to offer. Whether you're heading to the capital of Manila for the holidays or to stay long-term, embrace all the city has to offer by learning a bit of the language before you go. Contact us to get started!