Alsatians: The Middle Child of a Centuries Old Territorial Dispute
What happens when you have a chunk of land that changes ownership four times over the course of three quarters of a century? Just look to Alsace, France, a region of political, linguistic, and cultural ambiguity.
Alsace is located on the eastern border dividing France and Germany. The people of this region have been known to resist the cultures of their respective rulers, be it Germany or France depending on at which point in history we are discussing. Due to a seemingly endless back and forth between nations dating back to the 17th century, Alsatians nowadays submit to neither French nor Germanic allegiance. Instead, they are labeled a region within the Republic of France with a culture and language that is an amalgamation the two.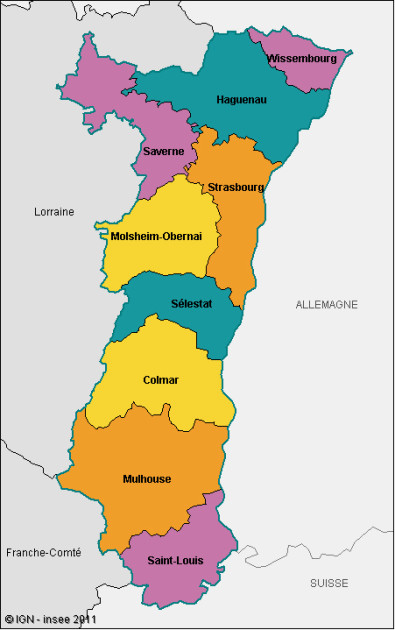 Politics
Although they were technically within French territory during World War 2, Hitler considered Alsatians to be ethnically German. Consequently they were recruited to join the Nazi party, which has since left them cast out from French society.
For the generations that followed Alsatians have struggled to distance themselves from their Nazi ties while preserving their cultural and linguistic German roots, simultaneously striving to integrate themselves into French industries. It has been no easy feat, as German and Alsatian dialects were outlawed in public and the people stood out ethnically next to their French neighbors.
Furthermore, independent of the cultural and ethnic historical conflict, the industries of the region suffered from the overpowering influence of globalization. Alsace is rich in textile and iron, but it is neighbors with Switzerland, Belgium, and the Netherlands, all of which are nations that produce the same materials as the small enterprises in Alsace, except on a global scale.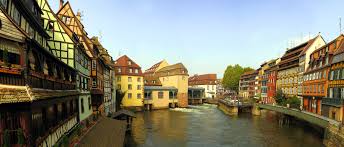 Language
Nowadays, the saving grace for Alsatian people has been their bilingualism. Alsace has become a political hotspot because the region's capital, Strasbourg, is the home of over twenty different international European institutions, including the European Parliament and the Council of Europe. It has been described as being one of the most crucial territories in all of the European Union, and is considered by many to be the cultural capital of the continent.
Many French have moved there from other parts of the country, causing language integration to become a necessity for locals. As a result, virtually all Alsatians can speak bothFrench andGerman. Indeed, as the smaller industrial enterprises decline, international jobs requiring employees with bilingualism on their résumés remains strong.
Culture
Today, the region enjoys a cultural matrimony of the two countries. The newer buildings are of French architecture and the older ones are German. Two of its most famous dishes are baeckeoffe and tarte flambée. Baeckeoffe is a medley of potatoes, onions, beef, and pork, which is archetypal German cuisine. Tarte flambée is a quiche-esque bread and cheese based dish, one of the most common meals throughout France.
It is known as much for its French wine as it is its German beer. Walk down the street and you will find as many German restaurants, as you will French, plus a fair share of fusions of the two. The language has evolved into a medley of Upper German, Swiss German, and French. It is one of the most beautiful cities in the country of France, and is a worthwhile place to visit for anyone interested in traveling Europe.
Interested in hearing just what the Alsatian dialect sounds like? Check out this video of an interviewer asking questions in Dutch and receiving answers in Alsatian.
How many classes do you think it would take you to understand them? Take one of our free online language level tests today and start counting. Then, send Language Trainers a quick inquiry to begin on the path towards fluency!